By automating certain aspects of their work with medical speech transcription, they can focus on what really matters. The wellbeing of their patients, and providing their services for the most amount of people possible who are in need.
Automatic medical transcription in minutes
Speech to text solutions are to be found already in many industries from law enforcement to education.
Here is the reason why: Turning speech into text promotes digitalization by replacing typing tasks, that saves time and money.
By transcribing the speech into digital e-notes, doctors can focus more on the patients during visits, and they can create medical reports and prescriptions in one-third of the time compared to manual data entry.
Main areas where you can utilize medical speech transcription at your practice
Create automated transcriptions of patients' statements
Easily search for data in a patient's file
Transcribe online medical consultation sessions
Make visits accessible for persons who are deaf or hard of hearing (with live captioning)
Create automated transcriptions of patiens' statements
By taking advantage of speech to text apps, you can read what your patients told you after the consultation as well.
With this feature, you can provide more tailor-made solutions for your patients, enabling them to recover as soon as possible.
Easily search data in a patient's file
Searching for important keywords and phrases in a speech transcription software also opens up the opportunity for you to be able to track the progress of your patients' health condition.
This enables you to treat them with the most suitable solutions available.
Transcribe online medical consultation sessions
Similarly to transcribing speech in-person, you can implement this feature in the online world as well. If you were unsure what your patients told you, you can look and search in the transcript anytime.
Moreover, you can save a lot of time by automating administrative tasks! Who wouldn't want that? Speech to text will make your work easier and more efficient!
Make visits accessible for persons who are deaf or hard of hearing (with live captioning)
It is crucial to include everyone, especially when it comes to their wellbeing. Being able to understand and to be understood is the most crucial when it comes to medical consultations.
With the help of speech transcription, there is no obstacle that will stand between you and your patients' wellbeing!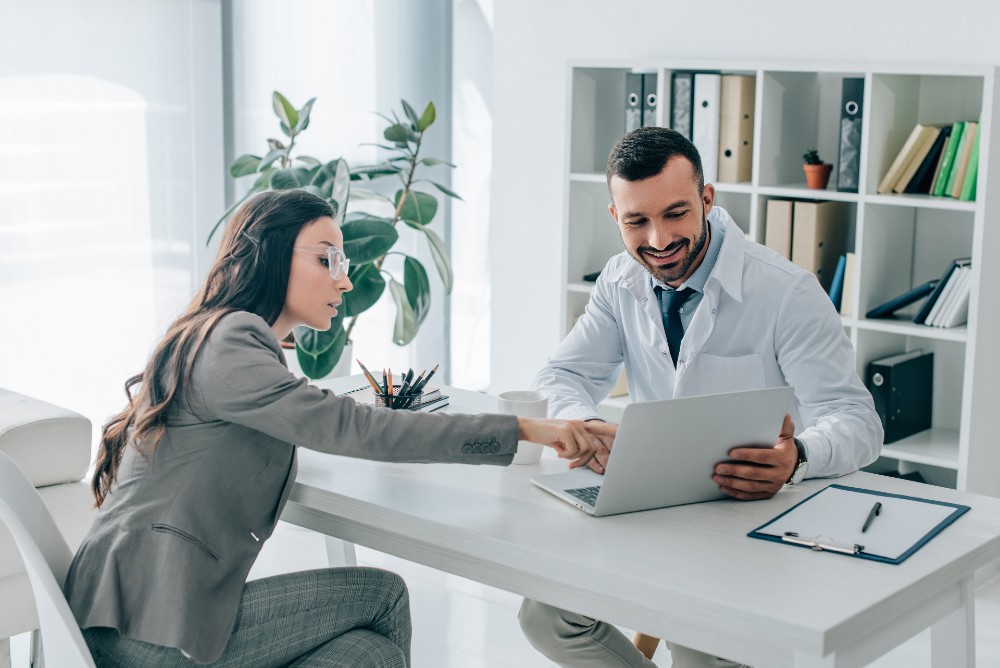 How does speech to text apps work? Automatic transcription from voice
The automated speech recognition software converts speech into readalong text in minutes.
The resulted document can be reviewed quickly, copied or shared with the patient and uploaded to the hospital's own system.
The files later can be re-visited and searched to find the neccessary data.
5 reasons why Alrite should be your number one choice for medical transcripts
The speech to text app has a user-friendly interface and it is very easy to use
The Alrite speech recognition application turns media files – direct recordings, audio and video uploads, social media video links – into text in just seconds.
The speech transcription software is available in web-and mobile application as well (download Alrite for free for Android or iOS).
In addition to the automated medical transcripts, Alrite generates captions for videos, which can be instantly translated into different languages with a single click. Medical lectures can be made accessible in minutes, and the translated captions can be used, for example, to make your professional materials understandable to foreign doctors.
Data security is a high priority for us as well, therefore Alrite protects data with a multi-layered security system.